16530 Ventura Blvd
Ste 512
Encino, CA 91436-5062
Company Established In
1986
CATEGORIES & HEADINGSdetails >>
JANT Pharmacal Corporation develops and markets medical devices, including point of care and complementary diagnostics.
Established in 1986, the company's product portfolio includes a comprehensive line of CLIA-waived point-of-care rapid tests and instrumentation for physicians' offices, clinics, hospitals, laboratory, wellness, clinical research and long term care settings.

Accutest® , Accustrip® and LipidPlus Brand
CLIA-Waived Tests Include:
Pregnancy
Strep A
Infectious mononucleosis
H. pylori Urease and antibody tests
Urinary Tract Infection (UTI)
TSH
Immunological fecal occult blood tests (IFOBT)
Urinalysis readers and strips
Drugs of abuse, alcohol and tobacco
LipidPlus® Total Cholesterol and Glucose Measuring System

In addition, the company is launching a CLIA-waived analyzer that includes Lipid Panels, AST, ALT, Glucose, Creatinine and general chemistry panels.
JANT also offers the physician office and reference lab a suite of clinical chemistry, hematology, immunoassay and urinalysis systems and reagents. Laboratory consultation services are available to assist the laboratory professional in maximizing laboratory efficiency and operational productivity. These services include financial feasibility assessment, work flow optimization, as well as regulatory and proficiency compliance.
Vendor Showcase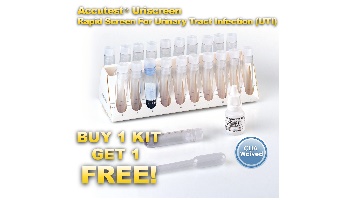 Accutest® Uriscreen is a rapid and accurate screening method for urinary tract infections, detecting both bacteriuria and pyuria.
This test is ideal for UTI screening in physician's offices, clinical laboratories, outpatient settings and can be used to complement conventional culture methods.
- Easy to Use and CLIA Waived
- Rapid Results within 2 minutes
- Detects bacteriuria, hematuria, and pyuria by identifying catalase activity
- 95% Negative Predictive Value and extremely sensitive for low bacterial counts read more